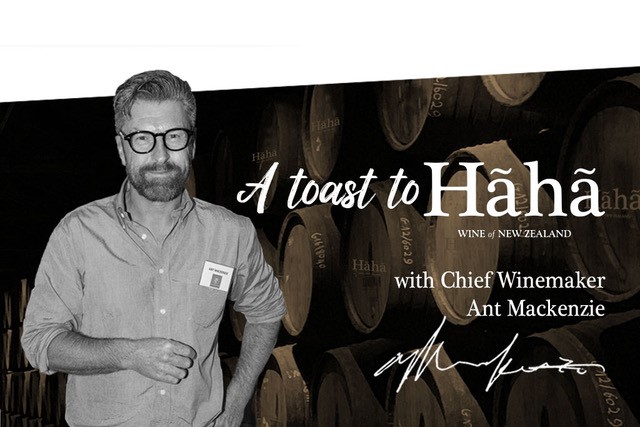 2020 Vintage Report
15 Jun
We are incredibly excited to announce the appointment of our new Chief Winemaker Ant Mackenzie. His accolades as a winemaker are prestigious and numerous, winning many gold medals and industry honours over his illustrious career that has taken him all over the world. He has also been selected as one of Cuisine Magazines Top 100 'people, products or things we love'.
In addition to the accolades received for his wines, Ant is a Senior Wine Judge/Panel Leader at the New Zealand Wine of the Year, NZ International Wine Show and the A&P Hawke's Bay Wine Awards.
 We will be publishing a regular column from Ant with vintage updates and any exciting wine news to share with you all.
 We hope you enjoy his first report on the stunning 2020 vintage!
---
2020 VINTAGE REPORT
Recently I joined Hãhã as the Chief Winemaker.  I have been making some of their wines for a few years, notably the Chardonnay and the Syrah.  My new role has me working alongside the existing team but overseeing all of the wines.
It's a big job, with wines coming from both Hawke's Bay and Marlborough.  Fortunately for all of us in the wine industry, 2020 has been an excellent vintage in both of New Zealand's main wine regions.
For winemakers what separates a good vintage from an excellent vintage really comes down to three things: light, heat and rainfall.  New Zealand's wine regions are blessed with an equal balance of all three most years.  In Hawke's Bay we like more heat to ripen the reds, in Marlborough we like it a little cooler to preserve the aromatic qualities of Sauvignon Blanc and Pinot Noir.  Both regions enjoy low rainfall which also looks after the third factor, light.  If it rains too much, there isn't much light!
By the numbers, 2020 was a little warmer than average but quite a bit drier in both regions.  Crucially, as we were locked down during the harvest period, the weather was very settled.  It was a classic 'Indian summer' which seemed to keep on giving.  Harvest was a real pleasure.
Focusing on the regions, Hawke's Bay is where we grow our Pinot Gris, Chardonnay, Rosé, Merlot and Syrah.  The 2020 Hawke's Bay wines will be aromatically very fruit forward, have a lovely softness on the palate with richness from both fruit weight and soft tannins (from the light).
Marlborough is home to the Hãhã Sauvignon Blanc and Pinot Noir.  The 2020 Sauvignon Blanc has the typical punchy fruit character on the nose (we try and get a balance of melon, passionfruit/ grapefruit and lime) and a slightly more generous, or welcoming palate, than a typical year.  Pinot Noir does well in the South Island of New Zealand because it is a cool climate grape variety originally from northern Europe.  Our 2020 has a lovely vibrant colour, dark berry fruit aromatics and a silky smooth palate.
For an insight into the quality of vintage 2020, I recommend trying the 2020 Hãhã Rose. Our 2019 Rosé was a sell-out award winning wine and we are extremely excited about this new vintage as it promises to deliver even more!
While we wait for the majority of the 2020 wines to be released, there is much to be enjoyed in the 2019 wines.
Until next time,


Source: nzwine.com